CTI-Maritec – Support on Fuel Quality Dispute Resolution
Issued on 29 April 2022
Testing Regime and Investigation Methodology on Fuel Quality
Maritec can carry out routine fuel analysis (shown in grey) along with enhanced forensic analysis (shown in blue) to check and confirm on fuel quality against the requirements of ISO 8217:2010/12/17 inclusive of Clause 5 : General Requirements. See below overview: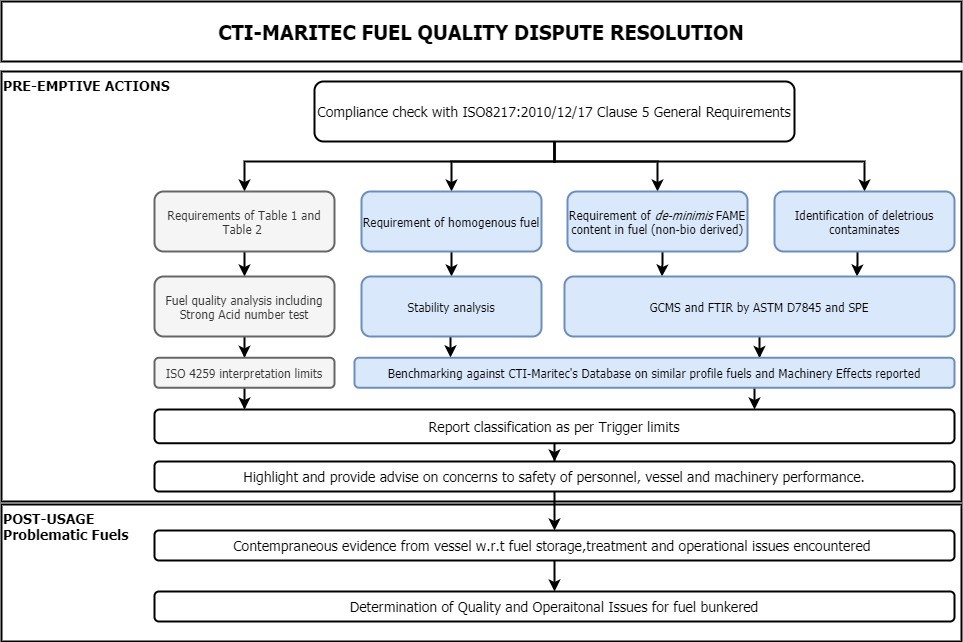 Fuel Quality Dispute Resolution by CTI-Maritec
In an unfortunate event when the fuel did not meet the specifications and/or deleterious materials have been detected, prudent attention will be required to notify the supplier/charterer within the notice period of the bunker purchase terms and conditions.
Maritec team always support our testing members on fuel quality disputes where most claims were advised and handled in most practical standpoint to ensure ship operations safety. An outline of the fuel quality dispute resolution as follows: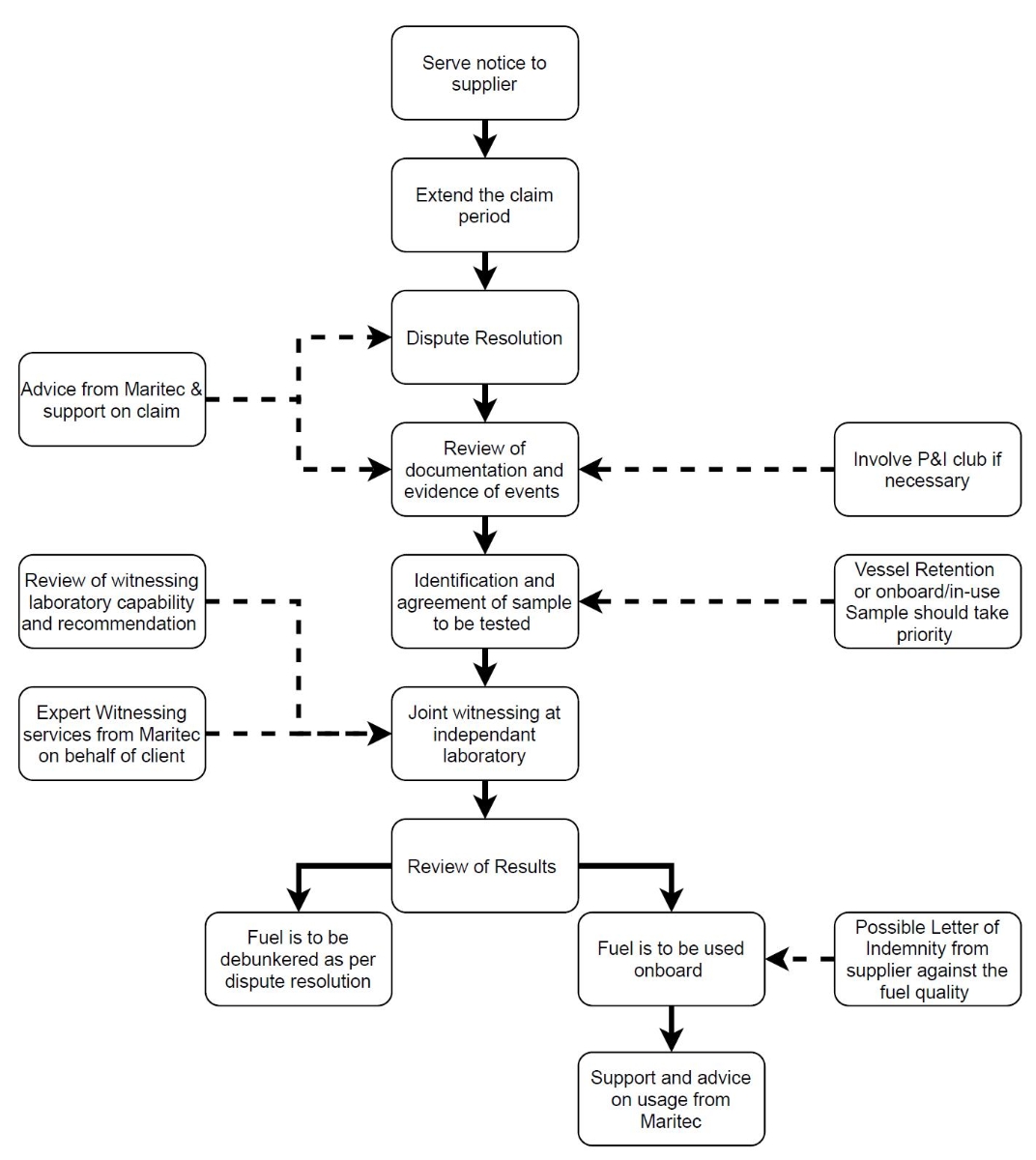 Contemporaneous Evidence (due diligence by vessel staff)
Ship's staff may experience problems treating and/or burning the fuel and engine damage may occur. In this case, it is important to document everything, with dates and times of occurrences, including when the fuels were first used and for how long they were used, which tanks have been used and when problems first occurred.
Damaged components must be retained onboard and photographic/video evidence taken of any blocked filters and separators. (Record the incident on "MARITEC FUEL OIL TROUBLE FEEDBACK" and return to us for any further support.).
Samples should be taken from the fuel system at various locations including before and after the separators, inlet to the main engine and after the transfer pump. Samples of any sludge or sediment from filters and separators, as well as exhaust valve and turbo charger deposits, should also be taken and sent for analysis. The quality of the evidence and the decisions taken at the time a bunker problem arises will be crucial to a party's success in prosecuting or defending a claim at a later stage.
Bunker Claims Services by Maritec Technical Team
We have a team of professional Marine Engineers and Chemists with vast experience in handling various bunker claims together with PNI club correspondents. Our bunker claims services not only are available to testing members also as an independent expert to any clients in need.
Contact Maritec at [email protected] on further operational advice and/or past empirical evidence to support your claim pertaining to ISO8217 Specifications and Clause 5.