LubeCheck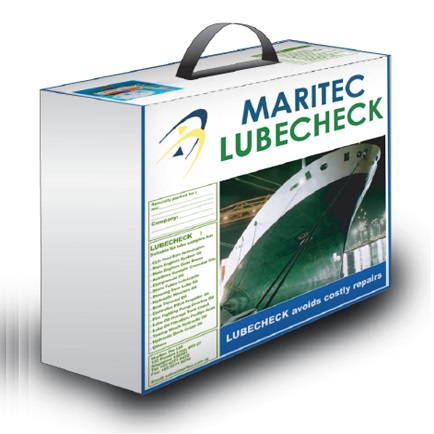 LubeCheck is an important complementary service to the Maritec Fuel Testing program. Many shipboard machinery problems may not always originate from fuel but could also come from the lubricants.
When a vessel suffers machinery damage the focus tends to be on fuel quality. The lubricant is often overlooked in the investigations, if it is not detected early, the equipment damages can be extensive. Machinery problems may be caused by some of the following issues concerning lubricants used in the engine and its associated components:
incorrect choices of lubricants
the quality of new lubricants failing to meet the engine manufacturer specifications
prolonged use of the lubricants well beyond its intended lifespan
Our LubeCheck programme addresses each of these issues by carrying out extensive assessments on the quality, choice and durability of lubricants used on-board your ship.
Condition Monitoring Programs
There are several approaches to the operation and maintenance of machinery, based on monitoring conditions. Typically, there are three broad approaches which can be taken by engineers, which are:
1. The 'run to destruction' approach
One approach would be to run the machinery until the point when it can no longer operate, disassemble the machinery, and then replace the damaged parts once the machine breaks down. This can be a very expensive practice as substantial damage could have occurred by such time. Spares may not be readily available or the lead time to replace such parts could be several months. With downtime of critical machinery (e.g. a marine engine) being highly un-predictable, a vessel employing a lot of seafarers could be idle for several days or weeks until the machinery is repaired. This would almost certainly be disastrous and un-economical, when most things in the maritime world are time critical.
2. Scheduled maintenance program
A better practice would be based on a scheduled shut-down and maintenance of machinery based on running hours or elapsed time the equipment has been in operation for. Using this approach, the machinery would be examined for inspection regularly regardless of whether there were any problems. This method gives better availability of machinery except that opening a piece of machinery that was running well often results in the introduction of other contaminants. Therefore, the process of disassembling the machinery may also cause damage due the unnecessary opening and reassembly of components.
3. Condition monitoring – Used Lubes Analysis
The more scientific and most cost-effective approach is to avoid disassembling any equipment that is running well. The health of the machinery components can be monitored by analysis and evaluation of the presence of wear metals left behind in the used lubricants.
Wear metals in the used lubricant analysis of a newly commissioned piece of machinery will tend to be larger and to increase dramatically during the ongoing period in which they are used. Eventually wear level will stabilise at the point when a machine is operating normally.
Monitoring oil properties and trends in the wear metals at regular intervals will help to detect any abnormal conditions and provide early warning signs of impending equipment failure. Increased wear metal trends found in the used lube will be detected by spectrometric analysis test results. Early action can therefore be taken based on such results and thus, prevent further damage from occurring.
The key advantages of the condition monitoring approach are extended life of the equipment, fewer maintenance costs and the possibility of predicting potential component failure so that spares can be ordered in advance and a convenient shutdown can be planned. Therefore, spectrometric analysis tests can be used to predict any potential problems with the machinery so that action can be taken care of at an early stage. Spectrometric analysis testing can be carried out upon engine crankcase oil, systems oil, or the cylinder lubricating oil (CLO).
Fuels and lubricants are inter-related and have an important influence on the performance of the shipboard equipment; hence, should not be tested and reported individually. In fact, both fuel and lubricant analysis reports should be tracked, coordinated, and reviewed in tandem with one another to identify interdependent properties between the fuel and lubricants. Serious operational problems and damages can result from the incorrect selection or inappropriate use of the lubricant.
The following table shows the standard tests offered under the LubeCheck programme. Each package provides oil property tests and the spectrometric analysis of the metals using the ASTM D5185 organic dilution method for the different types of oil applications:
Engine Oils
Gear Oil/Hydraulic Oil/Stern Tube Oil
Tests
Test Methods
Tests
Test Methods
Kinematic Viscosity @40 deg C KV40
ASTM D445
Kinematic Viscosity @40 deg C. KV40
ASTM D445
Kinematic Viscosity @100 deg C (KV100)
ASTM D445
Kinematic Viscosity @ 100oC (KV100)
ASTM D445
Viscosity Index
ASTM D 2270
Viscosity Index
ASTM D2270
Base Number
ASTM 2896
Total Acid Number
ASTM D664
Flash Point PMCC
ASTM D92
Not Required
NA
Pentane Insoluble
ASTM D4055
Not Required
NA
PQ Index
In House
PQ Index
In House
Water Content (Crackle)
Crackle
Water Content
Crackle
Water Content (Karl Fisher)
Karl Fischer
Water Content *
KarlFisher
Nature of Water
Qualitative
Nature of Water **
Qualitative
Metals Analysis:Al, Cr, Cu, Fe, Pb, Sn, Na, Si, P, Zn, Ca, Ba, Mg, B, V, Ni, Ag, Mo.
ASTM D5185
Metals Analysis : Al, Cr, Cu, Fe, Pb, Sn, Na, Si, P, Zn, Ca, Ba, Mg, B, V, Ni, Ag, Mo
ASTM D5185
Additional services offered:
Maritec provides a free sampling kit containing sampling bottles, labels and an instruction manual.
Samples will be couriered via DHL with the same level of importance and urgency as regular fuel samples that are delivered to Maritec for analysis.
This service operates 365 days a year.