Enhanced Fuel Analysis Package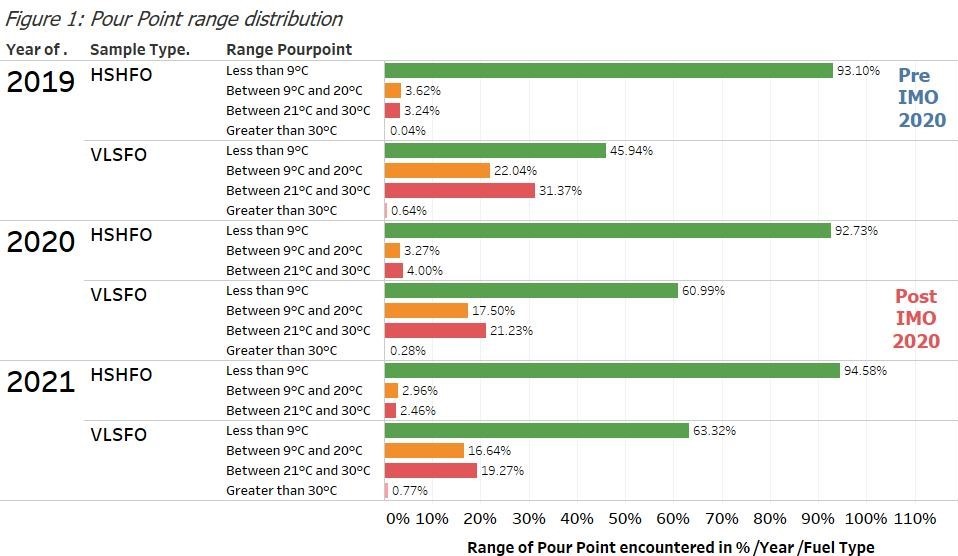 Incidents on-board ships caused by contamination from chemical and industrial effluents have become a serious concern in recent years. Many instances have been recorded of vessels being totally immobilized by chemical waste in their bunkers when they arrive at ports. It is often the case that regular testing regimes are unable to detect such chemicals, so the fuel appears to meet ISO8217 specifications.
Our Enhanced Fuel Analysis Package is offered as a supplementary package to MFTP, providing an extra layer of protection to vessels carrying deleterious materials and waste chemicals whilst making technical considerations of bunker fuel stability properties. The package includes analysis of the following areas:
GCMS Headspace Screening
Stability properties
P-Value
Asphaltenes
Total Sediment Existent
Existing members using our MTFP package have the option to upgrade to this service or the ability to apply this package for a specific bunker or vessel. Participating vessels will be provided with a free sampling kit with detailed instructions and documentation on how to collect representative samples for analysis.
Operational Assurance Package
Since the Global Sulphur Cap of 0.5% came into effect on 1st Jan 2020, ships without scrubbers will switch from High Sulphur Fuel Oil (HSFO) to compliant fuel: Very Low Sulphur Fuel Oil (VLSFO).
VLSFO possesses diverse properties, which depend on the blending and production methods used within the specific region in question. Global bunker fuel qualities vary significantly and ships today are faced more challenges than ever before to cope with various operational issues regarding fuel compatibility and stability.
The Operational Assurance Package is offered as pre-emptive testing to manage and mitigate such operational risks.
Compatibility Package
No supplier can guarantee the compatibility between different fuels. Therefore, the risk of incompatibility has to be carefully managed during, for example, fuel changeovers.
The Compatibility Package we supply, mitigates such risks by determining the compatibility of the remnants on board (ROB) and quantity control to the new fuel supply bunker based on three blending ratios (10:90, 50:50, 90:10), supplemented with a Total Sediment Potential (TSP) Test as recommended by the International Council on Combustion Engines (CIMAC) in WG 07 on Fuels.
Stability Package
Fuel with low stability exhibits a higher potential for asphaltenes to be present and lead to the formation of sludge or sediments over time, causing various operational problems.
Our Stability Package evaluates the nature of such sediments by Total Sediment Accelerate (TSA), Existent (TSE) and Potential (TSP) with further examination of the P-value and Asphaltenes content. These assements provide essential considerations for safe handling, use and storage of such fuels on-board.
Wax Appearance Temperature (WAT) & Wax Disappearance Temperature (WDT) Analysis
One key consideration within the management of VLSFO is the higher paraffinic content of fuel. Should the wax melt, it can block the pipeline, purifiers, and filters and in worse case scenarios, the engine can be starved of fuel. Such operational problems can be managed proactively by testing the WAT/WDT and also by controlling the fuel to ensure it is at the correct temperature for storage and transfer.
Wax Appearance Temperature (WAT) – also known as the 'Cloud point' for dark fuel - is the temperature at which the first wax in a fuel sample precipitates solid wax.
Wax Disappearance Temperature (WDT) – conversely, the Wax Disappearance Temperature is the temperature at which the last wax solids in a fuel sample are melted into liquid when the oil is warmed.