TECHNICAL BULLETIN: Implications of MARPOL Annex VI on tested sulphur for VLSFO
MEPC 75/W.P 5
IMO held MEPC75 on 16-20 November 2020. The relevant excerpts on Marpol Annex VI amendments for Fuel Oil Sampling are expected to enter into force by 1 April 2022.
Defines MARPOL delivered sample, In-Use Sample and On board sample clearly
Expresses the need for defining the locations of the above in the IAPP Certificate by the next subsequent renewal date.
Replaces the verification procedure in APPENDIX VI to ensure a consistent approach for testing the sulphur content of fuel oil in each case and the limits to apply.
MEPC.1 Circular 882, approved at MEPC 74, allows the early application of the draft amendments in Regulations 2, 14, 18 and Appendix VI, until they enter into force. An overview of the fuel oil samples and the sulphur limits applicable as described in APPENDIX VI is shown in below.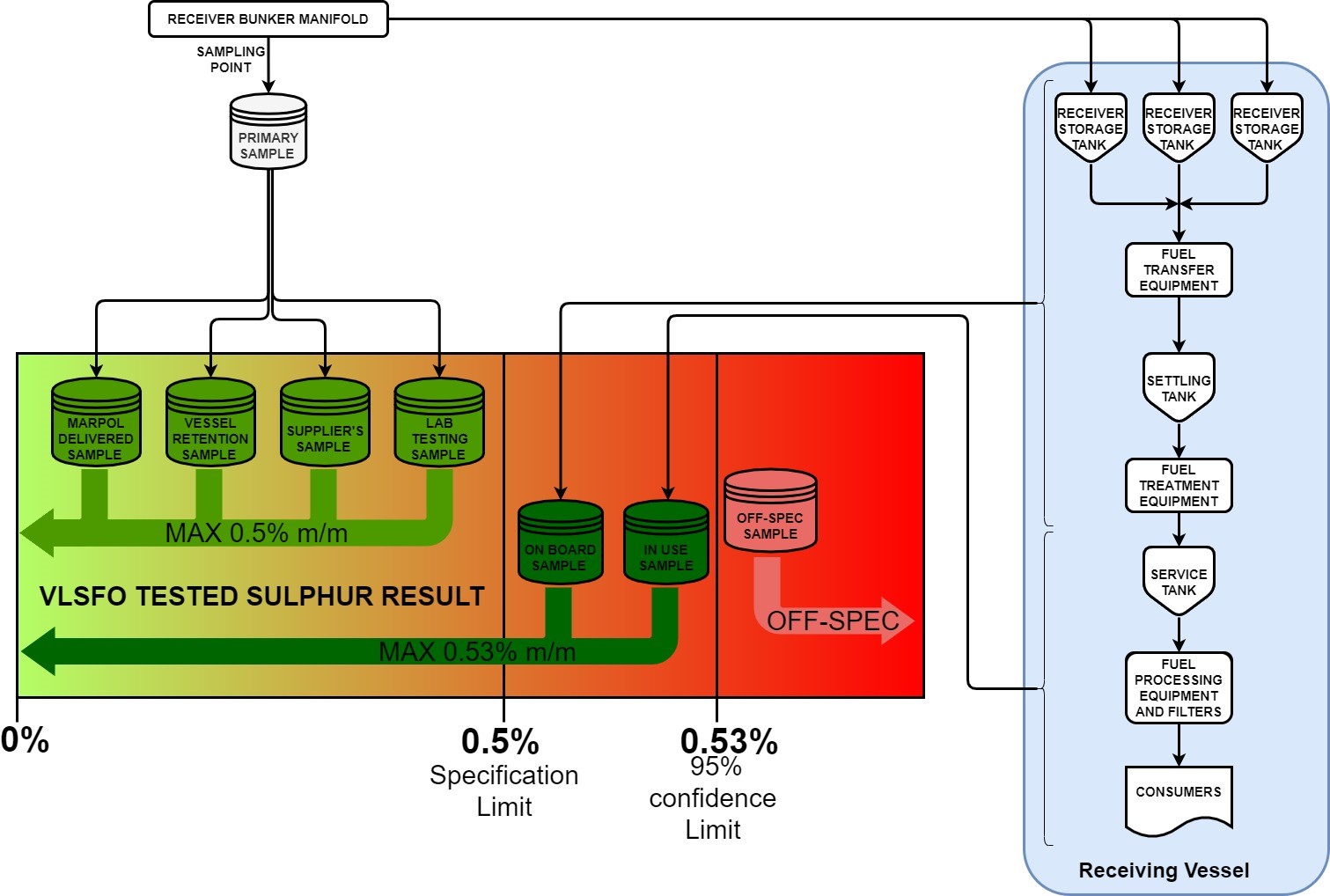 ISO 4259 and 95% confidence limit
Given that there will be variability between test results, even from identical samples tested in the same laboratory, this raises the issue of when an individual test result indicates that the fuel has met or not met the Sulphur applicable limit of 0.50%m/m for VLSFO
IMO after noting the inherent level of test variability, has adopted a 95% confidence testing boundary which is given by ISO 4259 as 0.59 times the reproducibility value R (expressed as 0.59R).
However note that this applies only to In-use and On board samples to protect the receiver.
MARPOL delivered samples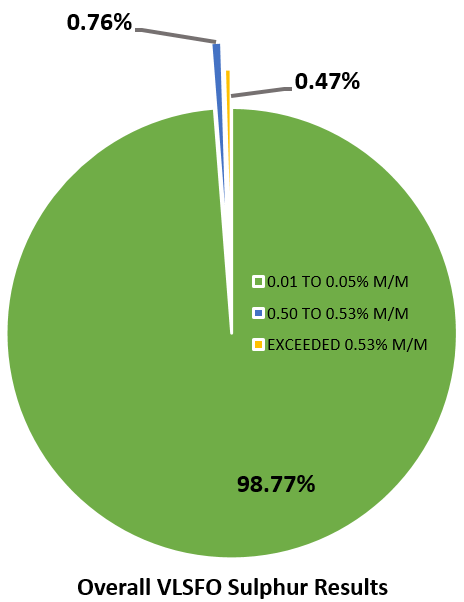 ​
There have been cases tested by Maritec laboratory that vessel bunker manifold samples indicating sulphur content between 0.51 to 0.53%m/m exceeded the statutory requirement of 0.50%m/m since IMO2020 implementation. This stands about 1.23% of VLSFO tested to date
There is an ongoing confusion and frustration in handling such cases whether the ISO4259 upper limit of 0.53%m/m applies?
Provided that the lab delivered sample is of the same constituent as the Marpol delivered sample, the sulphur verification limit of 0.50% m/m will apply.
In Use sample and On Board sample
There are challenges and inconsistencies in determining the sampling location of the On board and In-use samples. MEPC.1 /Circ.864/Rev.1 gives the guideline for Sampling location and handling procedures.
In-Use Sampling points are to be fitted or designated for existing ships constructed before 01 April 2022, no later than the first IAPP renewal survey after 01 April 2023. For new ships they need to be designated on delivery.
As shown it is clear that the In Use and On Board samples cannot exceed the maximum limit of
0.53% m/m. If the sulphur result exceeded 0.53% m/m, knowing the source of contamination and proving the vessel took all possible steps in ensuring compliance is of high importance.
It is prudent that vessel staff witnesses and documents the sampling and sealing by PSC inspectors. They ideally must take representative samples of their own that can be countersealed by the sampling inspector for independent verification in case of dispute.
Industry Feedback:
The complexity in having different approaches to sulphur verification for MARPOL-delivered samples versus in-use and on-board samples has raised concerns and created unintended confusion and conflict in the industry, - International Bunker Industry Association (IBIA)
Recommendation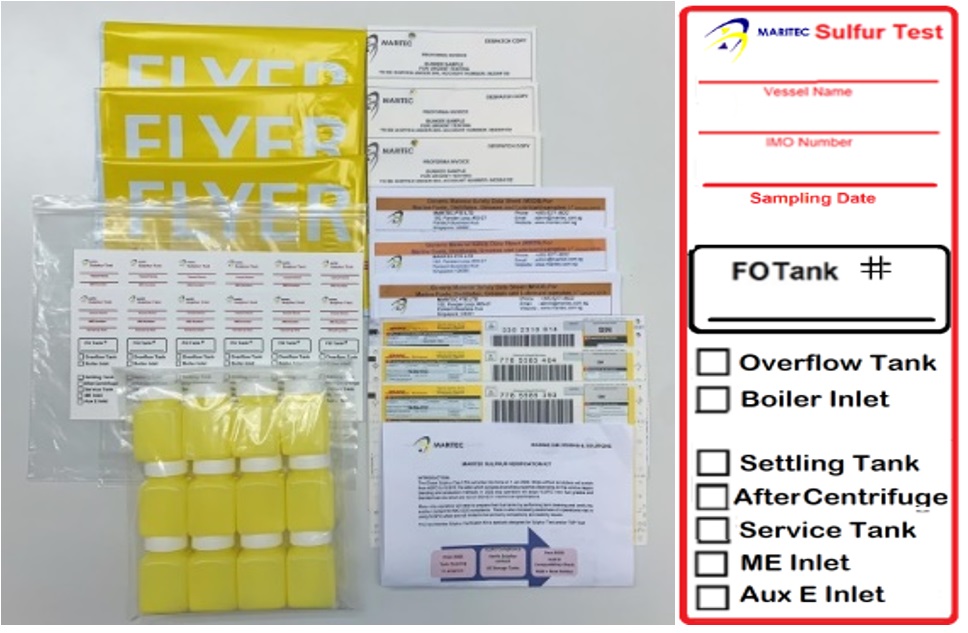 ​
Maritec provides the Sulphur Verification Kit for vessels in our testing programme. In addition to routine full analysis on new bunker sample, vessel may draw the on board and in use samples for sulphur test, ensure sulphur compliance within the statutory requirement.
There is always a possibility of loading non-compliant fuel on board a vessel. Mitigating this risk begins with sourcing and purchasing compliant fuel oil and reducing the risk of poor quality fuel oil being delivered to the vessel.
Knowing the appropriate limits at each stage of the process and ensuring the vessel is being complaint at all times will ensure better management with PSC inspections and be in line with IMO's objective on reducing air pollution and protecting health and the environment.