News & Events
Related Pages
CTI-Maritec got DNV Approval for BWMS Commissioning Test
CTI-MARITEC has passed DNV qualification approval process for Ballast Water sampling and testing in accordance with IMO-D2 standards, and officially received the DNV qualification approval certificate on 8th April ,2021.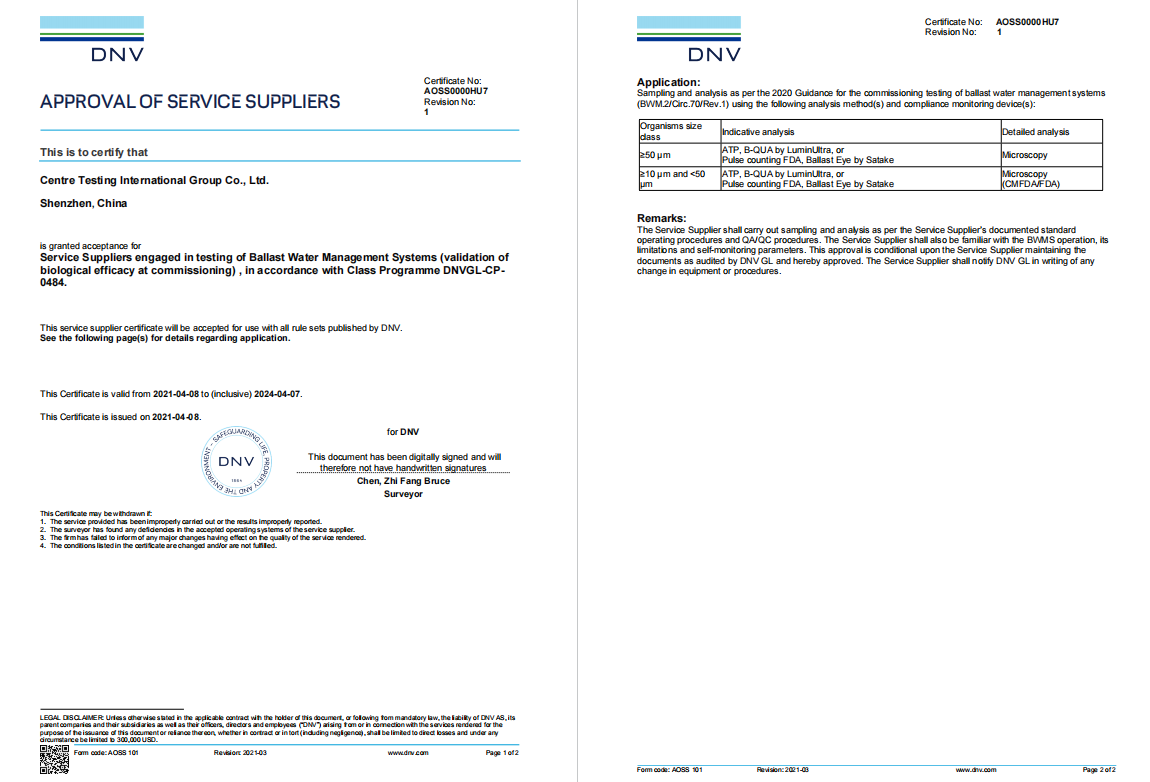 So far, CTI-MARITEC have obtained ABS and DNV qualification certificates for commissioning testing for ballast water management system as per BWM.2/Circ.70/Rev.1 Guidance.
CTI-MARITEC also applied the LR qualification audit which is expected to be completed by April.
The International Convention for the Control and Management of Ships' Ballast Water and Sediments (BWM Convention) was adopted in 2004 to introduce global regulations to control the transfer of potentially invasive species. Entered into force on 8 September 2017. all ships of 400 gross tonnage and above to which the BWM Convention applies (including existing ships, except floating platform, FSUs and FPSOs) are required to possess International Ballast Water Management Certificate.
MEPC 75 (16 to 20 November 2020) has adopted the Amendment to the Ballast Water Management Convention (BWMC) to conduct commissioning testing so as to demonstrate through representative sampling and indicative analysis that a BWMS is working properly, according to the amendments, sampling and analysis should be conducted at commissioning testing for BWMS installed on board ships on or after 1 June 2022.
CTI-MARITEC can provide the commissioning test in China, Singapore, EU, and we also provide the VGP ballast water testing in most of major ports in the world.
Should you have any query, please don't hesitate to our local team.
About CTI-MARITEC Services: