CTI-MARITEC Gains Lloyd's Register Approval for BWMS Commissioning Test
CTI-Maritec has got approval from Class Lloyd's Register (LR) as a test facility capable of undertaking Ballast Water Management Systems (BWMS) Commissioning Testing as per BWM.2/Circ.70/Rev.1 Guidance. From today, CTI-Maritec is fully approved by available main IACS members (ABS, DNV and LR) as service provider for ballast water management system commissioning testing.
(The approval information has been published on the LR's website LR Marine & Offshore Approvals You can find us with E-certificate No. LR21217096AS).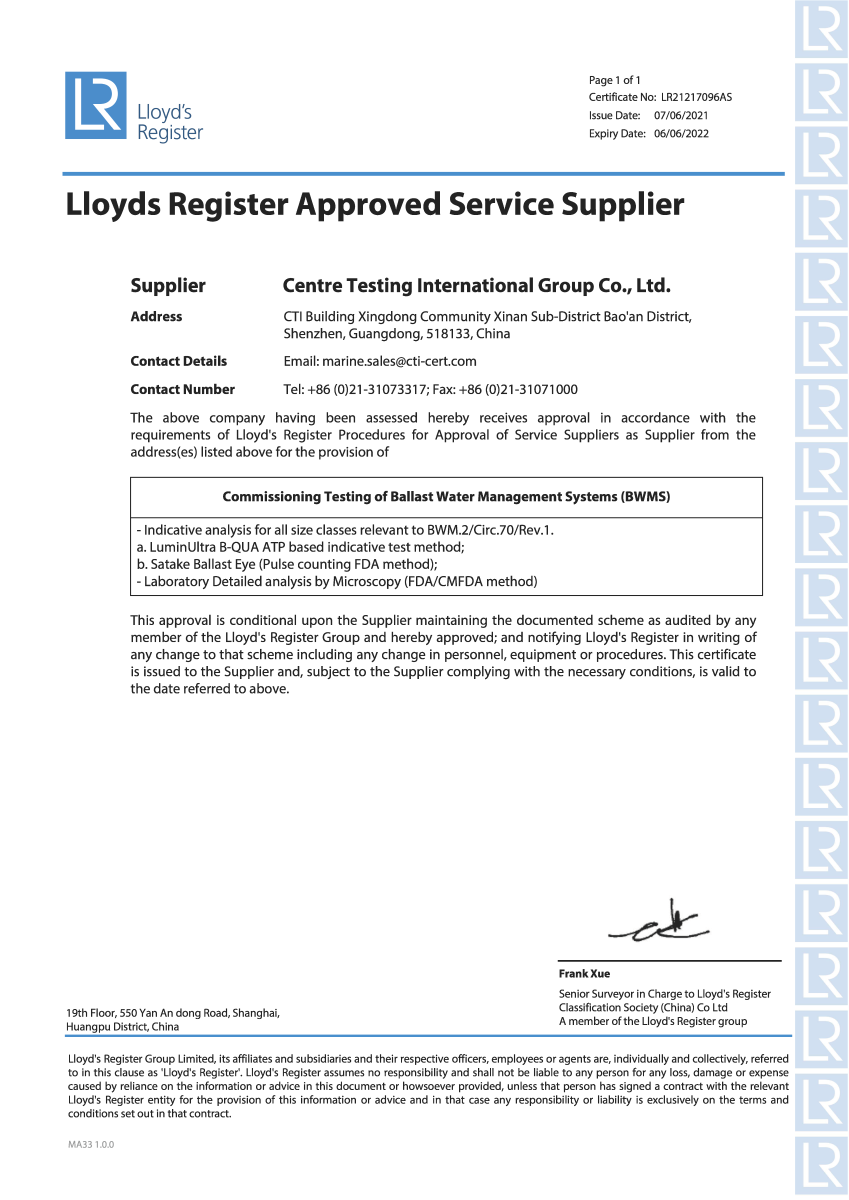 During the certification process, LR reviewed CTI-Maritec's standard operating procedures and documentations, including detailed step-by-step sampling methodology and analysis and the relevant quality control procedures. Besides, an on-site audit of sampling and testing process was conducted to ensure the methods for indicative and detailed analysis were finally approved.
Commissioning Testing of Ballast Water Management Systems (BWMS)
- Indicative analysis for all size classes relevant to BWM.2/Circ.70/Rev.1.
a. LuminUltra B-QUA ATP based indicative test method;
b. Satake Ballast Eye (Pulse counting FDA method);
- Laboratory Detailed analysis by Microscopy (FDA/CMFDA method)
CTI-Maritec has the capability of a variety of indicative analysis methods and has been recognized by classification society, such as ATP, Pulse Counting FDA, and we plan to add new testing methods (indicative analysis equipment) to meet future marketing needs.
Not only are we equipped with indicative analysis technology, CTI-Maritec has a wide range of ISO17025 accredited ballast water laboratories covered North, East, South China, offering detailed analysis, always focus on our clients with 24/7 responsive services with strong team of technical professionals. Besides Commissioning Testing, we offer Ballast Water testing for VGP at major ports around the world through our partners.
According to incomplete statistics, CTI-Maritec is amongst the few labs that have obtained the approval from above three classification societies in the world. So far, CTI-Maritec is the first domestic enterprise in China to obtain ABS, DNV, and LR qualifications at the same time. As an independent testing lab, we are now approved to test all organism size classes specified in the standard along with bacteria, including vibrio cholerae, Escherichia coli, and Enterococci.
CTI-Maritec is not only testing provider, our Core Values includes Vessel BWT System Risk Mitigation Solutions and Challenges for Vessel to pass the D-2 commissioning testing, such as Advisory to prepare your vessel ready for sampling check. We look forward to better serve you with dedication.