News & Events
Related Pages
CTI receives recommendations from CMA, CGM, and PIONEER MARINE
In late March, Centre Testing International Pinbiao (Shanghai) Co. Ltd, trading as CTI Marine Services successfully passed the extension to scope for Surveying of vessels for the purposes of satisfying International Maritime Organisation (IMO) and EU requirements in generating Asbestos Condition Reports and certificates to assist in the compilation of the requirements of French regulations - AFNOR NF X46-101.
CTI Marine Services also achieved the Schedule of Accreditation under ISO/IEC 17020:2012 issued by United Kingdom Accreditation Service (UKAS). Therefore, except Hong Kong Convention (SR/CONF/45), SOLAS convention and its amendments relating to asbestos, and Regulation (EU) SRR 1257 / 2013, CTI Marine Services is able to do the asbestos survey for French flagged vessels as per French regulation.
Some Flag States, including the UK, France, Netherlands and Australia, require an independent inspection and assessment of asbestos for the importation/arrival of vessels. The ship owner must provide an asbestos inspection report and certificate issued by the accredited inspection body.As a leading marine industry service provider, CTI Marine Services is the firstcompany in the world accredited with ISO 17020 by UKAS for asbestos survey of ships and ISO 17025 by UKAS for lab asbestos testing. CTI Marine Services can provide the Asbestos Free Certification for your goodvessels for the purpose of pre-purchase, hiring on/off, conditional survey and valuation etc.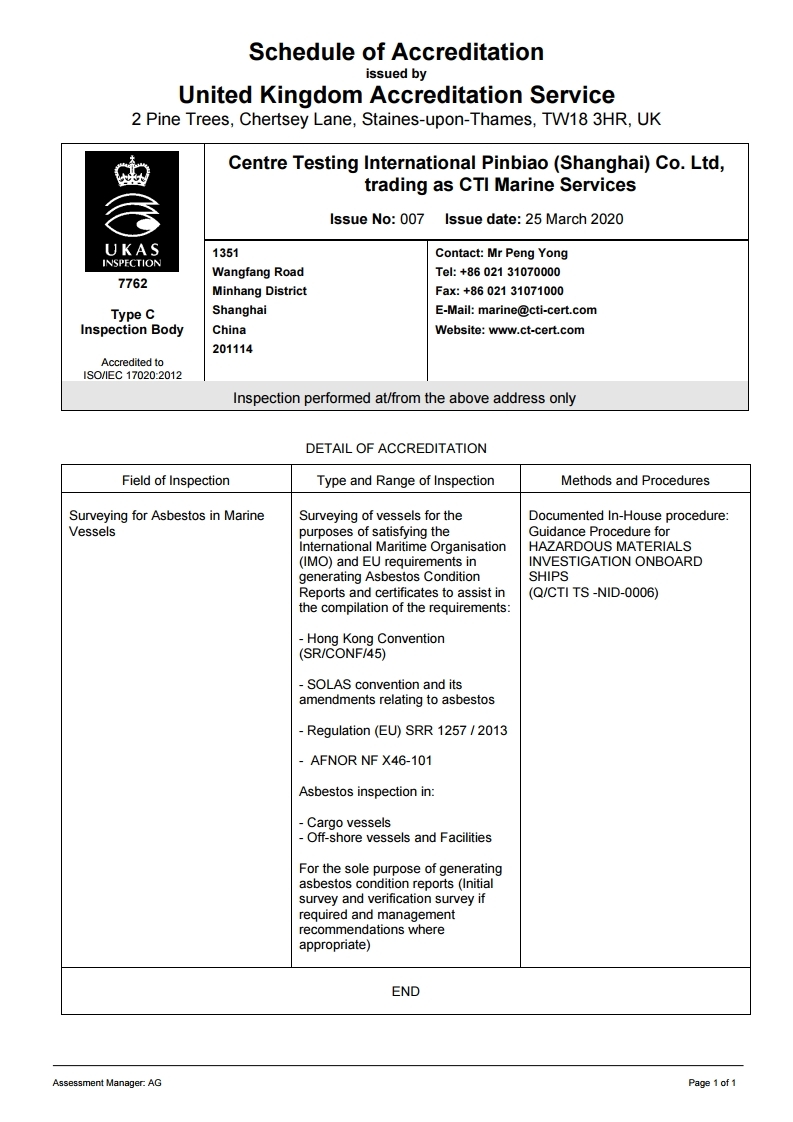 OUR SERVICES
Inventory of Hazardous Materials (IHM) Inspection and Preparation, Maintenance
Asbestos Survey / Management / Mitigation / Removal Project Management for Marine Assets and Land building
Hazardous Materials Laboratory Testing
Responsible ship recycling
Fuel oil / Ballast water / Sewage water testing
Training and consultancy Service
Non-Destructive Testing (NDT) and Ultrasonic Thickness Measurement (UTM)