News & Events
Related Pages
Bunker Flash: Phenols Detected in Singapore Bunkers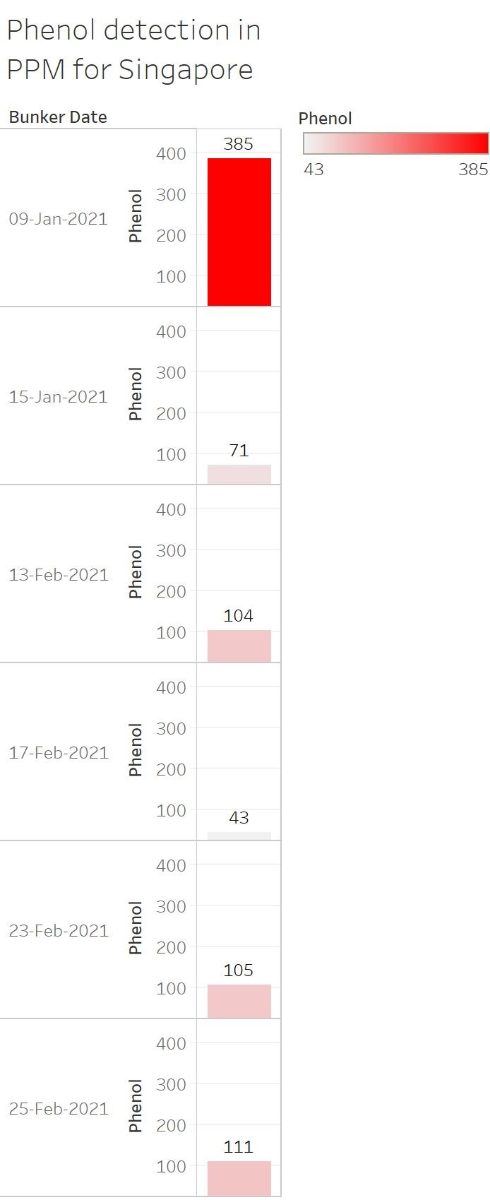 Maritec Pte Ltd has tested several samples representing VLSFO deliveries in Jan/Feb 2021 in Singapore detecting Phenol by GCMS. We have had 2 consecutive instances of the same barge/supplier product testing at 385 and 111ppm
At these high concentrations there is an increased risk of the fuel losing its stability and breaking down leading to deposits in fuel system filters and purifiers.
If Phenol is detected in your bunker fuel Maritec advises to carefully observe the system for above signs and conduct further GCMS testing by ASTM D7845 and Solid Phase Extraction to detect other higher boiling point phenolic compounds and Estonian shale oil (alkyl 1,3-benzenediol derivatives).
This document however does not reflect on the overall quality of fuel being supplied at Singapore, if you intend to bunker at this region, it will be prudent to conduct chemical screening by GCMS headspace as a pre-emptive analysis or consider subscribing to Maritec Enhanced Analysis Programme (MEAP).
Maritec Pte Ltd can assist you in with further information on quality of bunkers tested in different regions. If you require any other information or assistance do not hesitate to contact us.
Download this 《Bunker Flash》
Contact Us: www.maritec.com.sg/contact
Email: [email protected]